I have a youtube channel with over 700 Videos!


Hi, Thanks for visiting my website. My name is Will and if you have questions
or would like to
contribute projects or ideas you can contact me

Cheap Swords - It isn't the price you pay for a sword. It's the price you make the evil creatures pay!
A cheap sword is better than no sword!
Fantasy Swords Main - Movie Swords - Final Fantasy Swords - Kill Bill Swords - Fantasy Swords - Dragon Swords - Cheap Swords - Wooden Swords - Medieval Swords
You are on a budget though and are just looking for something to get you started. Well you have come to the right place. Right here we have a great selection of Cheap Swords that will start you on the path to being a hero!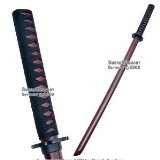 Ace Martial Arts Supply Kendo Wooden Bokken Practice Samurai Katana Sword, 40-Inch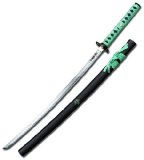 Z Hunter ZB-029 Samurai Sword, 40.5-Inch
Samurai Sword
40.5" Overall
27.5" Silver Carbon Steel Blade
4.3Mm Thickness Blade With Green Silk Printings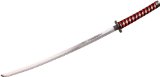 BladesUSA Samurai Sword with Cord-Wrapped Handle, Wood Scabbard, 40-Inch Overall
Handsome samurai sword ideal for display
20.65-inch carbon steel blade with Japanese writing etched into it
Handle wrapped in black, white, and red ribbons
Includes black wood scabbard
40-inch overall length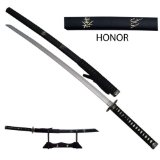 Last Samurai Japanese Sword Katana Honor w/ Free Stand
Blade is made of Stainless Steel
Black semi-gloss scabbard with Japanese kanji characters carved into it.
Handle features imitation ray skin and black ito cord wrap.
Sword comes with display stand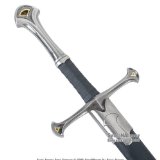 Medieval Crusader Sword with Scabbard
Blade made out of carbon steel, non-sharpened.
Stainless Steel Fittings.
Handle and Scabbard wrapped with imitation black leather.
Lots More Swords on Amazon.com