I have a youtube channel with over 700 Videos!


Hi, Thanks for visiting my website. My name is Will and if you have questions
or would like to
contribute projects or ideas you can contact me

Kill Bill Swords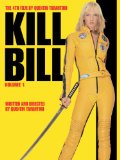 I love the Kill Bill movies. They are just special. And the whole story of the Hattori Hanzo swords is great. Kill Bill is a revenge movie. The Bride (Uma Thurman) is left for dead at her own wedding but survives. And in order to get revenge on the people that tried to kill her she needs a sword. A katana (samurai sword). And she needs the best one ever made. So she travels to Okinawa Japan and convinces Hattori Hanzo to make her a sword. Wonderful story, exciting and a lot of fun to follow. These movies brought a lot of attention to the beautiful katana. Some companies make swords modeled after the ones in the movies. Here is a list of some of them. (The movies are available on amazon prime)
Here are the major swords in the Kill Bill Series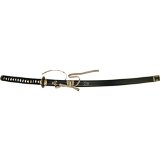 Original Kill Bill Bride Sword Hattori Hanzo
This beautiful katana demands attention! It combines the katanaÆs trademark characteristics of artistic craftsmanship and deadly weapon! Measuring 37 7/8" overall, this outstanding sword features a 26 1/2" mirror polished stainless steel blade. The traditional handle is nylon cord wrapped with ornamental pommel and tsuba. This katana includes a black lacquer scabbard. This sword is a great item to add to your collection!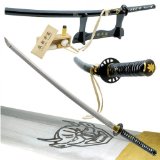 Handmade Kill Bill Bill's Samurai Katana Sword Leather
2nd Generation Hand Made Fully Authentic Kill Bill Katana of the Bill. The blade of the steel has been hand crafted of high carbon steel. Bill's Devil Face has been carved into the scabbard. The handle core is wooden with a real ray skin wrap. A black leather cord has been tied over the ray skin.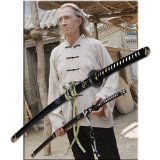 Hattori Hanzo Kill Bill Samurai Katana Sword w/ Devil
Loved Kill Bill? Just gotta get all of the Kill Bill memorabilia. Well no collection is complete without the sword that made the movie a classic. This sword is awesome to see and even better to hold. The sword is solidly made and even has a good balance and extended handle for swift and powerful moves. You just cannot face the Crazy 88 without a worthy sword. Check the attributes of the weapon bellow.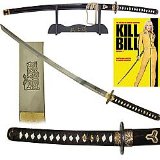 Kill Bill Katana Sword with Display Stand
Overall Sword Length: 41.25" Blade Length: 29.25" Handle Length: 12" Blade Material: Stainless Steel Handle Materials: Rubber coated metal wrapped with black thread in traditional katana wrap design Scabbard Material: Hardened Acrylic and Metal Stand Material: Wood
Fashioned from the popular movie "Kill Bill" and "Kill Bill Vol. 2" this fine reproduction katana is the most intricately designed swords for the best price you will find. This is the "Bride's" sword. Stainless steel blades are etched to appear to have the deadly sharpness of a real samurai sword, although this blade is not sharpened for safety reasons. The Bride's blade features an additional engraving near the handle. The blade has a full, two-handed 12" handle beautifully wrapped in thread as with most traditional katana handle wraps. As an added detail, the ends of each handle are topped with gold-painted metal designs. This sword is beautiful!
Traditional and authentic long wrap technique featured on scabbard. And two-tone intricate gold-painted metal trimmings throughout the sword make this a gorgeous addition to any sword collection.
A matte black painted wood display stand also accompany this sword set. Ancient japanese lettering is painted in gold on the stand as well, adding to the authentic look of this sword.