I have a youtube channel with over 700 Videos!


Hi, Thanks for visiting my website. My name is Will and if you have questions
or would like to
contribute projects or ideas you can contact me

Dragon Swords
Fantasy Swords Main - Movie Swords - Final Fantasy Swords - Kill Bill Swords - Fantasy Swords - Dragon Swords - Cheap Swords - Wooden Swords - Medieval Swords
The sword and the dragon are two mythical symbols that are inextricably tied together. With these items they are brought together into one.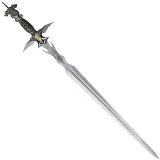 Dragon Evolution Fantasy Sword
33.5" OVERALL
DRAGON EVOLUTION SWORD
INCLUDES DISPLAY PLAQUE
BLOOD GROOVE AND LASERED SYMBOL ON BLADE
DOUBLE DRAGON POMMEL WITH LETTER OPENER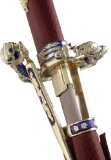 Katana with Dragon Tsuba - REd Scabard and 43 inch Overall size
43-Inch Overall (Katana)
Stainless Steel Blade with Dragon Tsuba
Includes 2 Pcs Throwing Knives Attached To Scabbard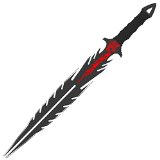 Dragons Tongue Warrior Sword
Overall Length: 26 Inches
Blade Length: 13 Inches / Blade Material: Stainless Steel, Black Finish
Handle Length: 13 Inches
Design: Fire Breathing Dragon
Includes: Black Nylon Sheath with Belt Loop
Dragons Breath Fire Medieval Fantasy Sword w/ Plaque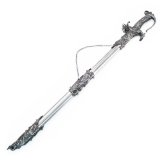 28 inch stainless steel blade. Intricately detailed cast metal Dragon handle. Beautifully ornate cast metal scabbard fittings.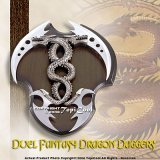 Fantasy Duel Dragon Dagger Sword w/ Wall Mount Plaque
This is the Hell Keeper. The dagger is two intertwined dragons with razor sharp blades coming out of their mouths and tails. In its own right this is a cool dagger, but it goes beyond cool when you pull the dragons apart. Each dragon is held by 3 magnets and four locking cut outs. When the dragons are separated you have two functional daggers. Attributes of the Weapon: -The dragons are solid steel made from 440 stainless steel. -There are two blades on each dagger. The blades are 440 stainless steel and come razor sharp. -The Set includes a Wooden Wall mount Plaque.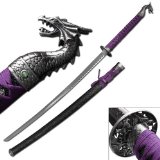 Dragon Slayer Purple Katana
41.5" Overall 27.5" 4mm blade, Stainless Steel
Black Finish Plain Blade
14" Nylon Cord Wrapped Handle
Fake ray skin wrapped handle with dragon head buttcap
INCLUDES ANTIQUE SILVER ZINC ALLOY FITTING
Lots More Swords on Amazon.com