Tutorial continued from left hand column
Type in the text of the link you want to make. I typed in Storm The Castle.com
Highlight it then choose the link button (shown below by the pointing hand)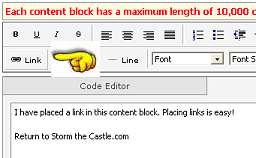 now type the address the link goes to in the pop up box. I typed in http://www.stormthecastle.com
Save your page and continue on with the tutorial.
Now you are step 4 of the process. Create a new page and call it about me. You can now do the same editing process that you did for your main page. Add text, images and links.
Create as many pages as you like. Travel, writing , my artwork, ideas etc.
Then push the publish button

They give you a link to follow directly to your new website! Congratulations you now have a website. Here is a look at the site I made for this tutorial. Not bad!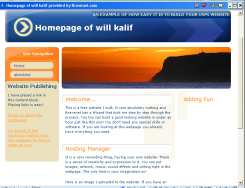 Make sure you bookmark it so you can return. And be sure to remember your password for bravenet.
Now continue on , build more pages, add a counter or lots of other free stuff that bravenet has. You are going to have a lot of fun. ANd be sure to tell your friends about your new free website.