This is what my page looks like with an image and some text inserted.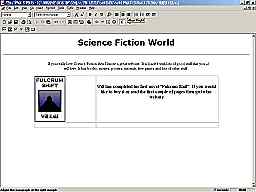 Note that I have manipulated some of the properties of the table cells -The Cells on the left are not as wide as the cells on the right. You can do this by selecting the table then in the table menu you adjust the cell properties. Again, in FrontPage Express you can see the table borders but when a browser visits your website the borders will be invisible because they are set to a width of zero.
Next we will insert a hyperlink.