Concept 1: The Crossroad
This was the first sketch I did for the cover. It came right out without any thought.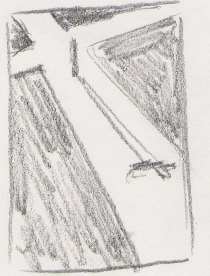 I liked this design because it conveyed a sense of the novel on several different levels. There is a lone character standing before a crossroads -which is an obvious metaphor. But I like the fact that the crossing of the two roads also looks like a sword. The shadow of the character is also in the shape of a sword. There is a recursion here that appeals to me. The overall effect of this concept is very dramatic.