July 2008
Thanks for checking out this issue of the Hobby Newsletter. I have a potpourri of projects for you to check out. This particular issue does not have theme, it covers a lot of different areas.
Hobby Projects in this Newsletter
Kite Projects, A Diamond Kite and a Box Kite
Catapult Projects: The Ogre and the Goblin
Diorama Video Tutorial on how to make battle trenches
3 Terrarium Projects: A Tabasco Bottle Terrarium, A Wine Glass Terrarium, A Conch Shell Terrarium
Fantasy Art and Drawing: New lessons in my free Art School
New Paper Castle Project: Neuschwanstein Castle
Two Kite Projects
In last month's newsletter I said that I wanted to do some kite projects so here they are. With the summer in full swing kite making is something fun to do. And for me it fulfills a couple of requirements in that you get to make something and then you get to see it in action.
The first kite is a traditional diamond kite and it is very easy to make. The second kite is a bit more of a challenge but it really is a lot of fun. It is called a box kite and it looks like it would never fly but it sure does fly well. And people can't stop watching it.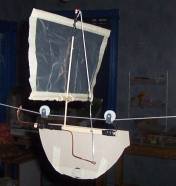 Extra Kite TidBit - I have also made something called a Kite Messenger. This rides up the string to your kite, gets released then rides back down. I have built the messenger but I haven't tested it out yet. Hopefully I will have this in my next newsletter. It's really a unique little thing.
Two New Catapults - The Ogre and the Goblin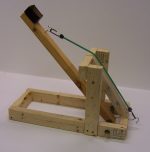 I have two new catapult projects this month. The OGRE is a massive two foot catapult that uses a bungee cord for its power. This is not for kids, moms and dads have to supervise for this one and you absolutely have to wear safety glasses. The Goblin is a small and powerful catapult that is ten inches long. I am currently designing it for mass production and will be offering it for sale soon.
New Diorama Making Video: A lot of people who make dioramas make military and battle scene dioramas. I don't do a lot of this type of diorama because I tend to do fantasy scenes. But in a military style diorama you will often see trenches as in trench warfare that was prevalent in WWI and WWII. Somebody emailed me and asked me how to make trenches in a diorama so I did a quick video tutorial on the process. You can see the video here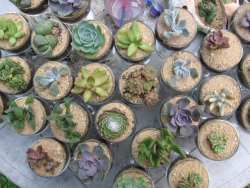 New Terrarium Projects: The Tabasco Bottle Terrarium - The appeal with the project is in how tiny it is. It is a very attractive and kind of fun little project that doesn't take too long to do. You don't have to use a tabasco bottle, any really small container will do. The Tabasco Terrarium . Somebody suggested I plant hot peppers in it! I had to laugh because well, I guess it would be appropriate to grow hot peppers in a tabasco bottle!
Here is a great project that was done by a web visitor. It is a wine glass terrarium and its pretty easy to do. It also lends itself to a lot of creativity. Wine Glass terrarium
Here is another Great terrarium idea submitted by a web visitor. It is a Conch Shell terrarium and I really like this project because it makes use of my number one rule of terrarium making: Choose an interesting container! The Conch Shell Terrarium
Art and Drawing: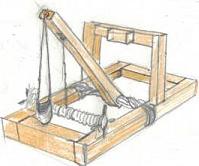 I have two new lessons in the Free Fantasy Art School Lesson 21 How to draw simple siege engines and a new lesson on understanding the HB scale for pencils
New Paper Project: Make a Paper Neuschwanstein Castle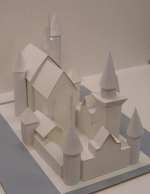 This is the second in my series of paper castles. It is a fun project and at the time of this newsletter publishing I have completed the building of the castle but have not yet completed the instructions. Here is the page where the project is located so you can check out more pictures and bookmark it. It will only be a few days until I finish the package. You will be able to download it, print it out and make it yourself.
My New project blog - I do a lot of projects in a lot of different subjects and this month I created a blog where you can check out all of them as I make them. I also list interesting articles and essays I write. If you want to keep up to date on what I am doing you can check out the blog here: Will's Project Blog

Thanks for visiting my websites and thanks for signing up for my newsletter! As always I will do my best to bring you lots of fun projects in the world of hobbies and creativity. If you have any ideas for projects please feel free to email them to me! And if you have any questions I would love to help!
Be Creative and Have fun! - Will
What's Coming Next! I have a whole lot of great projects coming including Telescope and astronomy projects, Another paper castle, more diorama stuff, more terrarium stuff and another paper game for you to print out and play! Stay tuned!