May 1, 2007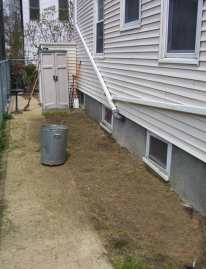 It's been a long winter here in New England and finally everything has turned its corner and it is time to think about the plants and the garden. Today, while fiddling around with a new website I got the yearning to start the garden. Last year was my first year and I thoroughly enjoyed it. All winter I have been thinking about how I will make the garden special. I still don't yet know how I will make it special but I do know that it will be.
This is it, my little philosopher's garden. I will keep you updated with pictures so you can see how it develops.
I had a couple of thoughts while doing the groundbreaking for the garden and I will share them with you.
The first thought is about going to the gym and exercising.
Going to the gym is a big thing to do in today's world and it is something that I don't do. I have thought about it, after all hasn't everybody either gone or thought about it? I have spent lots of time in various dojos over the years and this has been a wonderful form of exercise but there was something more there than just exercise. Anyway, have you ever considered gardening as your gym? Seriously, what are the benefits of a gym garden? They are many. Aside from getting some nice exercise and fresh air you are also cultivating and nurturing life. And you also learn the lessons of patience and caring. Does it get much better than that? Oh yeah, depending on what you plant you also get beauty and food.
While gardening your thoughts are free to think about things other than the other people in the gym, what they think or how you look to them. You are free to think casual or deep thoughts - whichever you choose, or whichever choose you.
What kind of world would it be if everyone planted gardens instead of going to the gym?
Second Thought
The stage I am in with the garden is probably the most beautiful to me because it is the stage of creation. As I go along I am thinking about the possibilities and shapes the garden will take. Making mental images in my mind and thinking about what reality I will create in this garden. The sky is the limit and that's a wonderful feeling. Will I plant food or flowers? Will I mix them up? Will it be military in its rows or will I allow it to be random an beautiful in its chaos? I am not sure yet. Let's see how it goes.
Third Thought on things found from last year
While digging I found a tiny little tuber, about three inches long. I admired it and set it aside. This had been hiding all winter waiting for it's chance to recapture life. A little later I found a bigger tuber, a carrot I think, I set this aside too. It just didn't seem right for me to discard them. They have a desire for life and I will plant them in pots so they can experiece the joy of this spring and summer. It just seems to be a connection between the me of today with the me of last years amateur garden. I planted them and they did their best to oblige. So I will keep my commitment and replant them.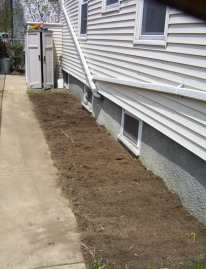 Here it is. The soil is dug and the weeds are plucked. I will keep you updated on the progress of the garden and the progress of my thoughts as I garden.