Saladin's Trebuchet
This is a miniature replica of a real trebuchet that is on display outside The Citadel in Cairo Egypt. I call it Saladins Trebuchet but that's just because the Citadel itself was originally built by Saladin in the 12th century. Since then the fortress has been added to, improved and rebuilt over the course of many centuries. But, the trebuchet is well placed because it was a powerful weapon that could destroy the walls of a fortress like the Citadel.
I have a whole bunch of pictures of the real trebuchet on this website here: The Real trebuchet at the citadel
If you want to learn more about the Citadel fortress in Egypt I do have pictures and more information on my other website here: The Citadel Medieval Fortress
The Miniature Replica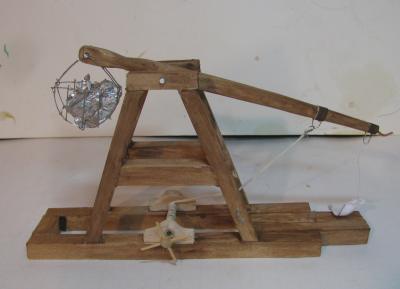 The Original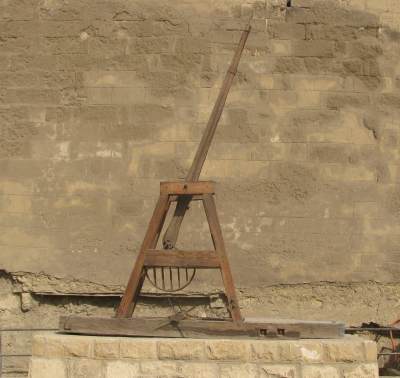 To Make this Trebuchet
There are quite a few different ways you can make this trebuchet and in particular there are a few different ways that you can assemble the various parts together. I used a glue gun for almost all of the assembly. But you can use wood glue or even screws and small nails. The glue glun is the fastest and easiest way.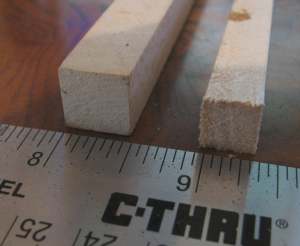 About the wood. I use two sizes of wood. One size is 1/2 inch square and the other is 3/8 inch square. You can improvise and use all kinds of sizes for your trebuchet. And if you want to buy wood like this it is available in all sorts of places including arts and crafts stores like Michaels and AC Moore and in home improvement stores like Home Depot.
Ok, let's start by building the base This is five pieces of 1/2 inch square wood. Glue all these pieces together just as shown. The length's are:2 are eight inches long, 2 are three and a half inches long and the piece on the left is 1 inch long.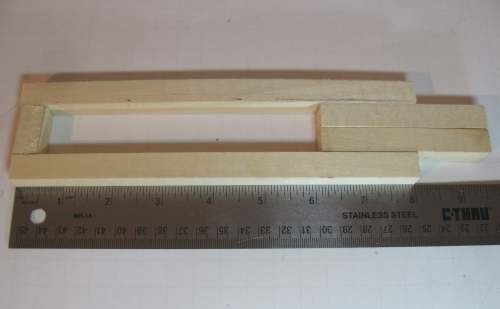 Now build the sides of the trebuchet. Four of the pieces are 3/8 inch wood and the center piece is 1/2 inch wood. The top piece is 1 5/8 in length. The two side pieces are 4 1/2 inches long - but you have to watch those angles on the ends of those pieces. They are approximately 1/8 inch shifted. You will probably have to tinker with those angles by sanding. The piece in the middle is 2/12 inches on the long end and 2 1/4 inches on the short length. Make two of these.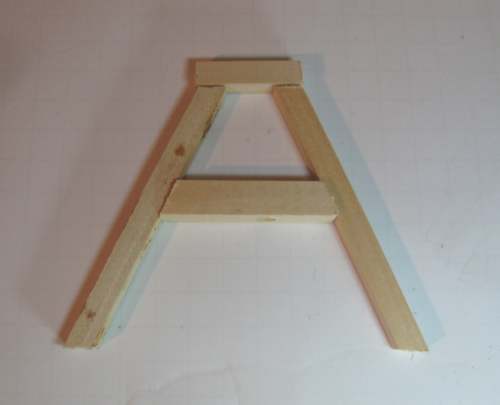 Let's continue with the building of this miniature trebuchet
RESOURCES AND MORE
Catapults and Siege Engines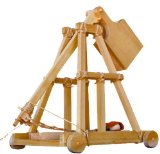 Desktop Trebuchet
Defend your desktop! The mere presence of this striking machine on your desk will induce fear and respect among your peers. Take charge and besiege your opponents with a fully functional, genuine trebuchet for your desk! It really works! It takes about two to four hours to assemble, which is a joy in itself with the hand selected wood and computer-controlled, precision cut parts. The professionally designed kit and fully detailed instructions - 10 pages of descriptions and tips, with of photos of every step - makes assembly a breeze. All you really need is some glue and a pair of scissors. For a more refined look, a little sandpaper and a small, round file would be helpful, but are entirely optional. Performance! This mighty desktop artillery is capable of hurling the wooden ball projectiles (included) over twenty feet! Just load-up the counterweight bucket with about 150 pennies and you are ready to go!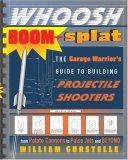 Whoosh Boom Splat: The Garage Warrior's Guide to Building Projectile Shooters

The Art of the Catapult: Build Greek Ballistae, Roman Onagers, English Trebuchets, and More Ancient Artillery
- Nice book that shows you how to build ten different catapult projects, moderate wood working and pvc piping kind of stuff. Good book with complete instructions and materials lists.

Backyard Ballistics: Build Potato Cannons, Paper Match Rockets, Cincinnati Fire Kites, Tennis Ball Mortars, and More Dynamite Devices
Want to get a little more creative? This book is off the hook!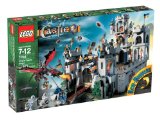 LEGO® Castle King's Castle Siege
- From this mighty Castle, the good King rules over all he surveys - Help him defend the kingdom against the skeleton warriors and their mighty dragon! Firing catapult flings boulders at evil attackers, and moveable walls within the castle help keep the knights safe Moveable walls for multiple build and play scenarios, working drawbridge, firing catapults and oulders and Knock-Down bridge --Includes heroic king and knights, skeleton warriors and constructible dragon --974 Pieces
What good is a catapult if you don't have a castle to attack!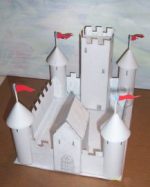 I have another project you might like. It is the Paper Castle and it has everything you could want in a castle making project including all the art work you can download. You just follow the instructions and make it yourself with some glue and cereal boxes. Build a Paper and Cardboard Castle It also has a learning sheet that helps to learn about castles when you are building it.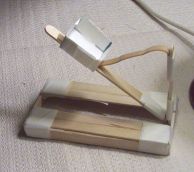 If you are looking for something easier to make you might want to try my project on making a popsicle stick catapult. Fast, easy and fun project! Goes great with the paper medieval castle. Make a popsicle stick catapult