Casting Miniatures - Tutorial
This is a series of tutorials that are web based and include videos on how to cast miniatures. The types of minatures I cast are predominatly the small scale minis in the fantasy and wargaming or table top gaming genre. If you have sculpted yourself a miniature and you want to duplicate it then this is the right place for you. Let's say you are trying to build an orc, elf or warrior army you can start with one and make yourself lots of copies. Some of the applications for this type of casting include warhammer, ww2 miniatures, games workshop miniatures, medieval miniatures and more.
Casting is a lot of fun and is very rewarding to see your little miniatures turn into multiple copies. And it really isn't that hard. You can be casting your own minis in no time at all with a few basic materials.
There are three different sections to this tutorial:
Here are the miniatures that I will use during this tutorial. The first is a woman warrior and the second is a dwarf and the third is a treasure chest. (You can see in the treasure chest picture that I already have made a couple of copies of the original. . I have chosen these two for a specific reason which I will cover. And, I also have extensive tutorials on how to sculpt these miniatures if you are interested in sculpting your own miniatures: Sculpting the Woman Warrior - Sculpting the Dwarf - Sculpting the Treasure Chest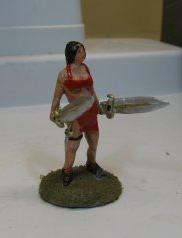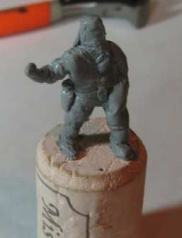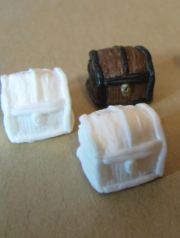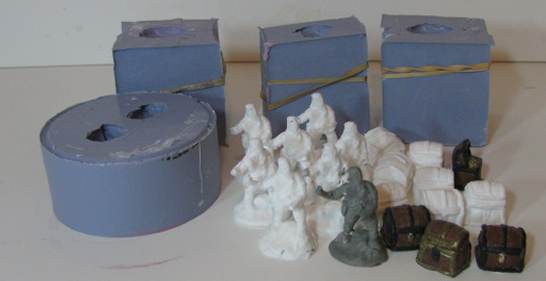 I have a supplies page if you are looking for casting materials, miniatures, tools etc. Casting Miniatures supplies and tools
Overview of How a Miniature is Cast
Duplicating a miniature is done in two major steps:
Step 1: Making the Mold
What is Casting? What you are doing is you are taking a miniature figure or item and you are covering it with some kind of durable material -usually some kind of rubber. The typical type of rubber that you would use is called "RTV" Rubberr. The RTV stands for Room Temperature Vulcanizing. This means that once you mix the two halves together the rubber will solidify at room temperature. You pour the rubber, in its liquid state, around the miniature and allow it to dry. Once it is dry you remove the miniature from the rubber and this leaves behind a space inside the rubber that is an exact duplicate of the miniature.
Step 2 Casting the Miniature:
You take your rubber mold and you pour some kind of liquid into it. A liquid that will harden. This could be some type of resin, some type of plastic, or even some kind of metal. Once this liquid dries you remove it from the mold and you have your duplicate.
So, from here we just have to decide on what kind of casting we are going to do and what kind of materials we are going to use. And these decisions are based on a few different factors like expense, what kind of miniature you want and the complexity of the miniature.
One Part and Two Part Molds
Another thing you have to think about is what kind of mold you need to make - either one part or two part molds and this depends on the shape and complexity of what you want to cast.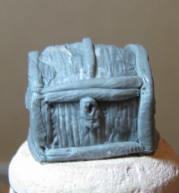 For some simple objects like the treasure chest shown here you can duplicate it using a one part mold. This is a lot easier and the reason why is because you can easily get the piece in and out of the rubber mold once it has hardened.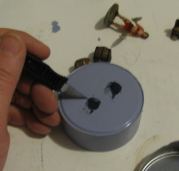 Here is an example of a one part mold. (There are two holes in this mold but that's just because it makes two different treasure chests)
With a one part mold you simply pour the resin or plastic right into the mold and when it dries you gently bend the rubber and remove the part. I will show you exactly how all of this is done.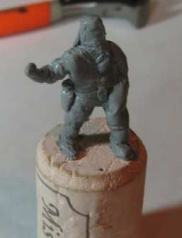 But, when you are casting a complex object like this dwarf you have to create the mold in two halves. You cast the back side of the dwarf first then you cast the front side. This way once the cast miniature inside the mold has hardened you can separate the two halves to get the miniature out. You can see it wouldn t be possible to pull this mini out of a solid mold.

Continue with tutorial Let's cast copies of the treasure chest with a one part mold

Or, you can go to my tutorial on how to cast a two-part mold here
RESOURCES
---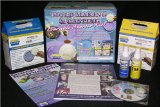 Moldmaking & Casting Pourable Starter Kit
- Mold rubber can be used to capture exact detail from any model. This starter kit will allow you to make a rubber mold of a small, simple 2 or 3 dimensional model using silicone rubber. Then pour our fast cast plastic to make one or more reproductions of the original. If you are an absolute beginner to casting then you might want to consider getting this kit. It has everything you need to get started including the casting materials and mold making materials. I have this kit and I use it for some of my tutorials. It actually will save you money because it gives you reasonable quantities of the varous needed things. You would pay more if you try to buy things separately. It also comes with a DVD that shows you exactly how to do eveything.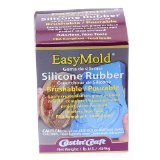 Easy Mold Silicone Molding Rubber for Casting and Jewelry Making 1 Pound
Easymold Silicone Rubber
Brushable/pourable
Easily Create Blanket, Glove Or Block Molds
Odorless, Non Toxic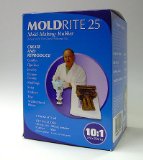 MoldRite 25 Mold Making Rubber
MoldRite 25 Mold Making RubberMoldRite is used by mold makers sculptors prototypers crafters and artists for long lasting silicone rubber molds to create and reproduce architectural pieces candles figurines jewelry picture frames plaster moldings prototyping soap statuary toys and any other item requiring high quality silicone rubber molds. The rubber cures quickly and will reproduce perfect detail from any original model. Once the mold is completed it can be cast in EZ Cast resin gypsum clay or polyester. Features include: No release needed; Easy to use; Makes reusable molds; Highest tear strength; Quick curing; Easy to pour; Sticks to itself (for multiple coats where needed); High detail. The 3 pound box will make 1 pint of MoldRite 25.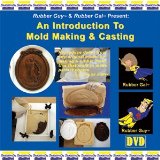 Introduction to Mold Making and Casting DVD
Smooth-On, the most trusted name in moldmaking presents "An Introduction to Mold Making And Casting." This video will introduce you to the endless world of mold making and casting and will expose you to basic concepts associated with reproducing the detail from an original model by making a rubber mold. It will introduce you to the most common mold rubbers used for making molds today as well as important terms associated with using mold rubber. You'll learn considerations and the right questions to ask when faced with selecting a mold rubber for your project. We'll show you how to prepare your original model so that mold rubber will properly cure against it and release from from it. You'll learn how to mix and pour mold rubber so that it cures properly. You will also learn about different materials available for casting into your mold to make an exact copy of your original. To help guide us on our journey, we've enlisted the help of Rubber Guy & Rubber Gal, Mold making super heroes whose job it is to defend the world from the evil Doctor Mold Doom - the cause of mold making and casting disasters.