How to use a small Terrarium as a Learning Tool for Kids
A terrarium is a great way to teach some lessons about the importance of nature, its interconnectedness, and our role as stewards in helping with the care. With something as simple as a small terrarium you can raise a child's awareness of the Earth and of the interconnectedness of everything.
There are three lessons that can easily be taught with a terrarium as small as a plastic container and a few bean plants. They are stewardship, the life cycle of plants, and the importance of interaction in eco-systems. I will cover all three of these lessons in this article.

Note that I also have a step by step tutorial (with a video) on how to make a terrarium for kids
Stewardship of the Earth
It can be as simple as a few bean plants in a Styrofoam cup but it is a living thing that kids will take care of. And stressing this point can have a dramatic impact. Kids will respond very well to the responsibility of caring for a living thing. The plants can even be elevated to the status of pets. But a very important thing that can be stressed is that the small terrarium is a small example of the bigger world we live in. And this bigger world is filled with plants, animals, and eco-systems that also need us to be responsible stewards. From the smallest of seeds you can expand the stewardship awareness out to encompass the whole world.
The life Cycle of Plants
Some of this will depend of the selection of plants but most common plants that are used in a terrarium follow a pretty standard life cycle that can be observed and understood by children.
Here is an overview of the life cycle of a plant:
The seed is planted in fertile soil where it germinates using nutrients it has contained within itself. This system is made of of the embryo or the small plant ready to germinate surrounded by the Cotyledon or the seed covering where the first food for the seed is stored. This configuration of seed and food gives the seed its start
When the seed germinates it grows a root into the ground and a shoot into the air. These things acquire water and nutrients from the soil and sunlight from the air. These sources of nutrients become the plants supply of food as the cotyledon is exhausted
The plant grows into maturity and grows buds that develop into flowers
The flowers are pollinated and produce new seeds
The seeds are distributed by a variety of creative ways and the cycle begins anew
Interaction systems
In the real world eco-systems can grow to become tremendously complex systems of interactions where many types of plants, animals and insects contribute in their own ways. While you probably can't build a complex eco-system in a small terrarium you can display and discuss the importance of how your plants interact together to create a whole unit.
The best example of this is the sharing of, and competing for the resources of water, sunlight, and nutrients. This is particularly noticeable if you use different types of plants. Some plants will send out extensive root systems in an attempt to monopolize nutrients in the soil while other plants will shoot tall and have large leaf systems that can potentially block sunlight from reaching lower plants. Some plants will grow extremely fast in a race to get all the resources before other plants have a chance to take root. These factors are only a small part of the interaction that happens in even the smallest of eco-systems but they are a good way to begin the thought process for how plant and animal systems interact in complex ways.
Some Simple Recommendations
If possible you should use several different types of plants. This will show a nice variety in how things grow and a glass or clear plastic container is also an excellent learning tool because it will help the child to see the root systems as they develop. I also recommend you put your plants outside when they flower. This gives bees a chance to pollinate them. And this way the child can get seeds in order to do the whole process again which is another important part of the life cycle of plants.
A Terrarium is a very simple yet profound thing that can enrich a child's life in ways that are very important. It can teach a child to care for living things and to be more aware of the complexity of the world of nature that we live in.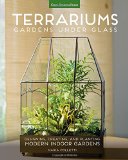 Terrariums Gardens Under Glass: Designing, Creating, and Planting Modern Indoor Gardens
Terrariums are back and better than ever! If you haven't seen this virtually foolproof and no-fuss way to bring nature indoors in the last forty years, you are in for a treat. Whether you live in an apartment, are chained to an office desk, or just want to be surrounded by green, living things, creating terrariums is a delightful way to combine the worlds of home decor and gardening. Terrarium expert and teacher Maria Colletti makes designing your very own interior gardens easy with step-by-step photos of over twenty of her own designs. Get all of the information you need on the "it" plants of today--tillandsias (air plants), orchids, mosses, cacti, and succulents, along with "traditional" terrarium ferns.
Learn how to transform basic designs using moss, air plants, succulents, vertical planters, hanging glass globes, and more into an unlimited creative palette. Once you know the basics (the plants, the vessels, and a basic understanding of soil, water, and humidity), you can mix and match for an endless exploration of your own creativity!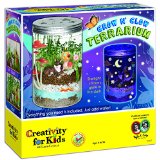 Creativity for Kids Grow 'n Glow Terrarium
1 Plastic TERRARIUM JAR, 5" x 3.25" (12.7 x 8.25cm). This mason-style jar has star- shaped air vents in the lid and a wide mouth for easy assembly.
A Plant MISTER for keeping your terrarium plants watered
2 RESIN FIGURES, a bunny and toadstools, 15 Garden-inspired STICKERS
45 Glow-in-the-Dark STICKERS, to light up your terrarium at night!
for ages 6 to 96
I have a tutorial with a video: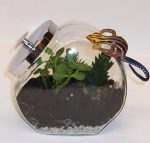 A Terrarium for Kids
Some guidelines and tips for great terrariums that kids can make. Includes a learning sheet that explains how a miniature ecosystem works.
A Terrarium for Kids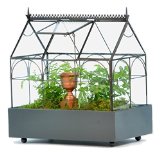 H Potter Wardian Case Terrarium Container
H Potter Plant Terrarium makes a great gift. Great size for small places. Entire glass terrarium container top lifts off and includes brass filagree trim and brass finials. Perfect indoor planter for the office desk or an apartment. Approximate Dimensions: 9.5"L x 5.5"W x 10.5"H
Terrarium Glass is 3 mm thick and has lead-free solder to protect you and the environment. Front center roof panel is hinged to open for ventilation.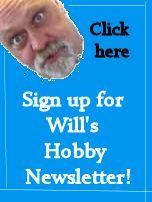 Do you like making projects and exploring a variety of hobbies?
Sign up for my free newsletter. I give you regular updates on hobbies and projects you can make. it is totally free and I don't share your email with anybody.