My Terrarium Videos on YouTube!


Hi, Thanks for visiting my website. My name is Will and if you have questions
or would like to
contribute projects or ideas you can contact me

How to make a Terrarium Waterfall
This is a complete tutorial that shows you , step by step, how to make a terrarium waterfall. It is something you can do in a few hours depending on the materials you use, the size you want to make it, and how long it takes the paint to dry. The biggest challenge is getting yourself a water pump. I used the pump from an inexpensive table top fountain that I purchased in a discount store. I have a selection of water pumps you can buy at the bottom of this page.
And, if you prefer to just buy a waterfall I have a page of them. The picture below is the waterfall I make in this tutorial. I also have a video that shows you the whole process. It is further down this page.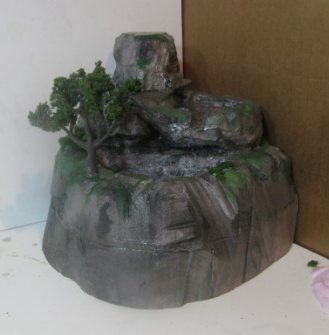 The most important thing you are going to need to make a waterfall is of course the waterpump. The follwong picture shows the pump I am using for this tutorial. I purchased a table top water fountain at a dollar store (cost $5) and took the pump out. In this case of this one it is battery operated which is easy to use but you can't run it for days at a time. You choose choose and select when you want to run it. There are plenty of pumps you can buy that are 120V operated (wall plug in) and I have resources on this page and on my terrarium waterfall page.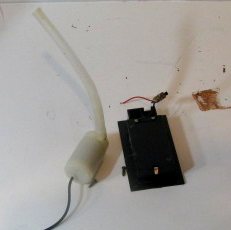 After the pump a lot of the materials you will need can be improvised and I used insulating foam that comes in sheets. You can purchase this foam online, at a local hardware store or at an arts and crafts store like Michaels or AC Moore. The only real requirement is that it of course be waterproof.
Most small water pumps like this are submersible which means you just have some kind of container of water and you put the pump right into the container so it is submerged.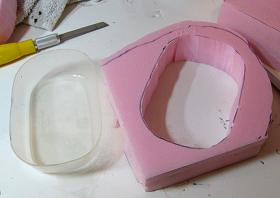 Here is the plastic container I am using to hold the water and the pump. I trimmed down the height of it. You can also see the foam I am using. I cut out a hole in the foam to fit the plastic container.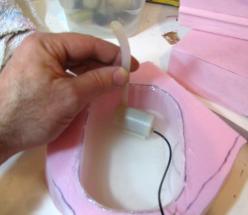 This picture shows the basic layout and concept of the waterfall. Use a hot glue gun or a waterproof glue to affix the plastic container into your first sheet of styrofoam.
You will add successive layers of foam to build up the shape of the waterfall. You can see I have put the pump inside the container. This is the basic set up. The bay has water in it. The pump sits in this water and forces water up the hose to the top of the waterfall. The water will cascade down the steps you make and return to the reservoir.
So from here it is just a matter of gluing on more foam pieces then carving them into a waterfall shape.

Let's Continue on with this tutorial on how to make a terrarium waterfall ( You can also watch the video just below, or check out the pumps and waterfalls you can buy
RESOURCES and PUMPS
---
What's more soothing than the sound of moving water? Redirecting a stream to run through your home or office may not be practical, but tiny, reliable electric pumps make it possible for you to create a small, indoor tabletop fountain; install a spouting sculpture in your backyard; or even build a full-size waterfall on your property.
This new paperback edition of Simple Fountains gives you illustrated, precise, easy-to-follow, step-by-step instructions for building 20 aesthetically interesting waterworks at a fraction of the cost you'd pay for those found in upscale catalogs. Using readily available materials (Adkins even includes hints for finding suitable recyclable materials) and simple crafting techniques, you will learn to custom-design your own water-filled masterpiece.In this beautifully designed, inspiring book, Adkins reviews the types of materials you can use for your fountain, including wood, bamboo, ceramic, stone, and copper. She discusses accessories such as flowers, shells, bonsai trees, sculpture, and fish. And she recommends specific products that will make you happier with the finished product (small magnet-driven fountain pumps, for example, tend to be the quietest on the market). Even if you consider yourself non-crafty, Adkins's can-do attitude will give you the confidence to build a beautiful fountain for any corner of your office, home, or garden.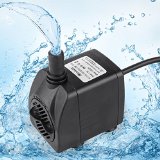 Homdox Submersible Pump for Aquarium Garden Pool
The 132GPH submersible water is designed for aquarium, pool, and garden
It can spout water up to 1.5M. And its max flow rate is 132 GPH
The water flow rate is changeable with 2 different size discharge ports, Size: 8.5mm/13mm
AC: 110-120V/60Hz Power: 13W Power Cord Length: 1.5M
One-year warranty provided! Don't operate without water! Completely Submersible motor, extremely quiet operation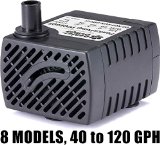 PonicsPump - Indoor/Outdoor/TableTop Fountain Pump for Statuary, Aquariums and More
COMPLETE SELECTION: We have 8 sizes & 19 models. This model comes with an attached high quality 5 FOOT WATERPROOF CORD. Comes with adjustable input flow-rate screen and 2 outlet adapters for 1/4" & 1/2" inside diameter tubing.
DURABLE QUALITY: Our Polished Stainless Steel #205 Impeller Shaft insures long pump life. Epoxy Resin Encasement of key internal motor components prevents unwanted conductivity and corrosion of metal parts. This pump incorporates a magnetic wet-rotor design, so there is no seal to fail that would damage the pump motor.
EFFICIENT: Neodymium Iron Boron (NdFeB) Magnets are used in all our electric motors because they are the most powerful permanent magnetic materials commercially available and increase energy efficiency.
SAFE & EASY: Safe for fish with no exposed copper and oil free. Easy to clean with no tools required to disassemble and remove the impeller/rotor. Our waterproof electric cord has 18 gauge copper wire with molded plug and heavy duty flexible vinyl jacket which resists oil, grease, moisture, and abrasion with very good flexibility at all temperatures.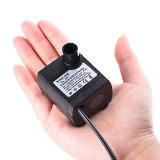 80 GPH Submersible Pump with Powerhead Fountain
Submersible motor, pump for aquarium, fountains, spout and hydroponic systems
Adjustable water flow rate and 2 different size pump head, no leakage
Extremely quiet operation, reliable and low power consumption
3 strong suction cups to fit any aquariums and easy to hide or disguise
It's safe with no exposed copper and no oil; Suitable for fresh water only