My Terrarium Videos on YouTube!


Hi, Thanks for visiting my website. My name is Will and if you have questions
or would like to
contribute projects or ideas you can contact me

The Basics of Terrarium Building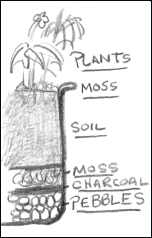 1. Selecting a container - The container can be almost anything at all. You can choose something dish like to create an open air container or something bottle like to create a closed environment terrarium which is a bigger challenge to make and to maintain.
2. A Layer of course sand or pebbles is placed in the bottom of the container. This allows for good drainage of the water in the terrarium.
3. Activated Charcoal - If you are making a closed container terrarium you should next place a layer of activated charcoal over the pebbles/sand layer. In a closed environment this charcoal will filter the air and keep it fresh. This is the type of charcoal used in aquarium filters so you can purchase it at any pet shop with aquarium supplies. If you are making an open top terrarium there is no need for this charcoal. Amazon.com has it right here: Hoffman 17502 Charcoal Soil Conditioner, 24-Ounce
4. Add a layer of Spaghnum Moss on top. This prevents the soil in your terrarium from settling down into the pebbles. It is kind of a like a filter that will allow the water to filter down but not the soil. If you don't have spaghnum moss a very fine screen will work well here but over time the screen will rust and need to be replaced.
5. Add Soil - Regular potting soil works fine. There is no need to try a fancy mix. But if you are creating a desert scene and using cactus you may want to get potting soil specifically designed for them.
6. Add the plants and or seeds. Care should be taken in this step. You want to arrange things in a way that is pleasing to the eye. You may want to make sketches before you plant. Or you may want to dig some small holes and move the plants around -trying different locations and arrangements. I have a list of common terrarium plants here
7. Finishing touches - Add ornaments or other decorations. These add a nice touch to your terrarium.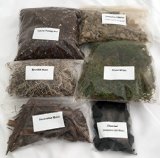 Terrarium / Fairy Garden Kit
Terrarium Potting Soil
Sheet Moss, Spanish Moss
Carbonized Charcoal
Decorative Pebbles, Bark Mulch
Complete instructions for creating your living terrarium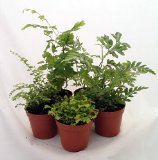 Mini Ferns for Terrariums/Fairy Garden -Assortment of 5 Different Plants-2" Pots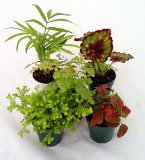 Terrarium & Fairy Garden Plants - Assortment of 5 Different Plants in 2" Pots