The Desert Themed Lightbulb Terrarium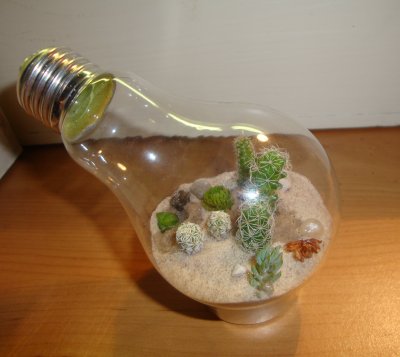 This is a wonderful lightbulb terrarium project that was made and submitted by web visitors ( Niels D.R. and Annelies V.D.K.) My thanks to them for the picture and the tips.
Here is what they have to say about the project: I've recently discovered your terrarium projects on youtube, especially your idea of making one inside a lightbulb so I made one with a desert theme to avoid condens on the glass and here is the result . What I used:
100W clear lightbulb (thanks for the tutorial)
-small stones for the bottom
-regular plant soil
-white sand
-small cactusses
-other small plants that don't need a lot of water
-small stones for decoration
-small candle holder as a "stand"
getting the soil inside there was easy with the use of a small tube positioning the plants without getting them covered with sand was the hardest part .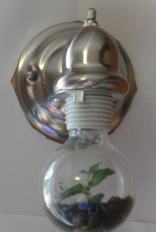 Here is a great idea for a unique terrarium: A terrarium inside a lightbulb! Its an easy project and a real conversation piece. See a larger picture and my tutorial on how to safely hollow out a lightbulb here: The terrarium inside a lightbulb project
Here is a video tutorial on how to clean out a lightbulb. This is from my youtube channel. While you are watching you might want to consider subscribing to my youtube channel. I have over 150 great videos on a variety of hobby projects from telescopes to dioramas, miniatures, sculpting, kites, paper mache and more! To subscribe to my channel go to my main page here and press the subscribe button. EpicFantasy Youtube channel
Need some Cactus Plants? Amazon.com has them.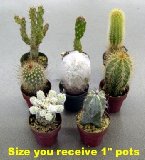 Instant Cactus/Succulent Collection - 8 Plants 1
Cactus plants come and go, but there is always a great selection on amazon: Cactus Plants on Amazon.com
Want to Make a bigger desert themed terrarium?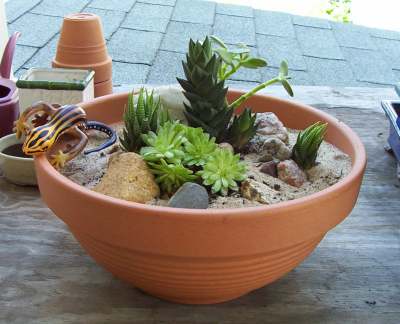 Here is a nice tutorial that I have made so you can make a desert terrarium inside a dish, bowl or planter. I recommend using terra cotta because it goes perfectly with the desert theme Make a desert terrarium This tutorial includes a video.
Or How about a REALLY big one!
I don't have a tutorial for this one but here is a very big glass terrarium with a desert theme. It was made by a web visitor (Badia A.) This just shows that the sky is the limit!