How to Make a Moss Terrarium Part 2
This is a tutorial on how to make an attractive moss terrarium easily. And in this tutorial I add some extras and give you more advice on building it and caring for it. I also add a small figure to this terrarium and a pair of very small flowers (micro miniature Sinningia).

This tutorial is the second in my series of tutorials about moss terrariums. You can see the first tutorial in this series here: Make an easy moss terrarium.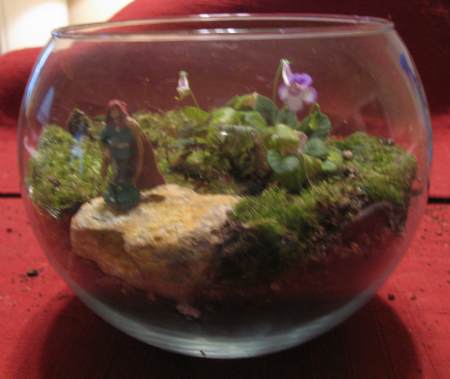 The Suggested Materials Needed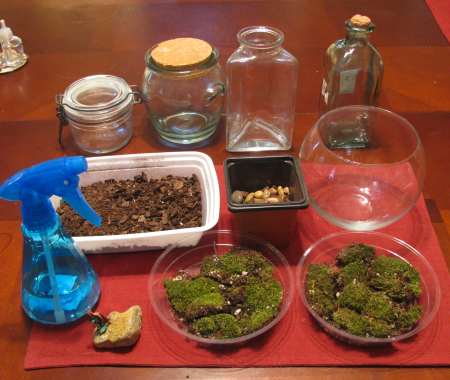 I suggest a few things for this terrarium project. First off you should use a container that has a large mouth opening. On the right you can see the fish bowl that I am going to use to make this terrarium. This is so you can easily get your hand in and out and so you can easily get the moss in. I show you a few different containers. The small mouth containers are not suitable for this kind of project.
After that you need a cup full of pebbles, a couple of cups of potting soil, your moss, and a spray bottle. The spray bottle is so you can mist the moss afterwards. Moss likes to be misted and you should do this once or twice a day.
What to do:
Put about an inch layer of pebbles in the bottom of the container
Put about 2-3 inches of soil right on top of the pebbles. This is optional because moss can do very well without much soil at all.
Arrange your moss in the container and press it down nice and tight
Add any accessories and accents you want (I added the little ranger figure and two small flowers.)
Caring for the terrarium:
If you have a container with a cover or a lid then you can cover it but monitor it closely for moisture. You may need to regularly or daily remove the cover and spray mist the moss. My recommendation is that you leave it uncovered for a couple of weeks so you can mist and water it and monitor it before closing it up.
The Video tutorial
Living Moss is the perfect groundcover for your bonsai tree. Hirt's moss is greenhouse grown and only requires a misting once or twice a day to flourish. It can even be grown by itself on a shady window sill. Just keep it evenly moist, not wet or dry and mist it daily!