Making a terrarium using recycled bottles
This may sound like a little thing but I got an email from Badia about a group of fast terrariums she made from a bunch of old bottles. She makes a really good point here. Why not recycle some old bottles into something beautiful? It is a win-win situation. Even if it is a very simple terrarium there is an aesthetic beauty to the simplicity of it. You get to spend a little time doing something relaxing and fun. And in a small way you do something special. Maybe it's only one or two plants and one or two bottles but it still matters and it still makes a difference!. And who knows? Maybe it will start you on a new hobby.
So, look through the recycling bin and have some fun! Keep your eye out for unusual shapes.
And if you want to make some small and easy terrariums with maybe just a plant or two I have some tutorials and plenty of ideas that will help. Apothecary Jar terrariums - Single Plant terrariums - A Soda Bottle Terrarium - A Bottle Terrarium - The Rum Bottle terrarium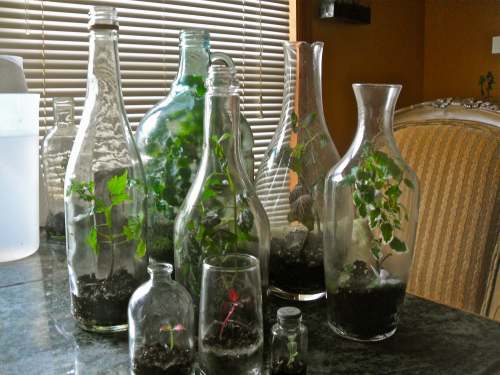 Here is a unique Bottle Terrarium by a guest artist (Thyrza) You can see more of her work and how she uses Polymer Clay in her terrariums here: Thyrza's Terrariums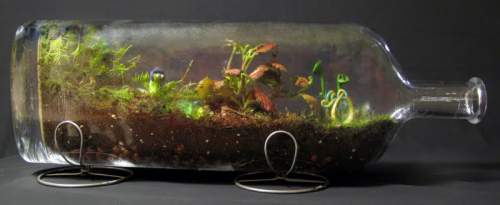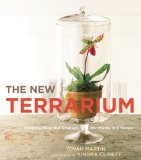 The New Terrarium: Creating Beautiful Displays for Plants and Nature
In The New Terrarium , Tovah Martin, one of America's favorite gardeners, introduces you to the whimsical yet practical world of gardens under glass-a no-fuss way to bring snippets of nature indoors. Wherever you are, in whatever little time you have, terrariums are the perfect tool for nature lovers and gardeners everywhere.
Eco Craft: Recycle Recraft Restyle
Who knew taking care of the planet could look so good? Eco Craft shows how, with 30 truly beautiful home décor projects that elevate environmental consciousness to stylish new heights. Every idea is amazingly clever: who would ever have imagined that plastic six-pack can holders could become a chic Moorish-inspired filigree tri-fold screen? Or that glass baby food jars would make a charming candle chandelier? Every project features at least one beauty shot in a modern home setting, easy-to-follow instructions, and step-by-step color photos, while handy icons spotlight the key techniques, materials, and the estimated time to complete each project.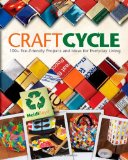 Craftcycle: 100+ Earth-Friendly Projects and Ideas for Everyday Living
Inside Craftcycle, you will find a mix of over 100 ideas for crafts, recipes, sustainable living ideas and construction projects - all organized by season to offer year-round green living. Within each chapter, there are larger projects to build, quick crafts to complete using basic materials or recycled items, seasonally appropriate tips, and recipes using seasonal ingredients. Detailed diagrams accompany the larger-scale projects, while the basic crafts feature step-by-step photographs and illustrations, making them accessible for the entire family.