Tip on making a real waterfall in a diorama
Adding a real waterfall to your diorama is a fantastic way to bring the whole thing to life. But the water can be a bit tricky to control. Here is a great tip on how to control the water so it looks great but doesn't run all over the place.

And if you don't have the pump running it still is a waterfall. That's an important little benefit to making a waterfall this way.

This is a great tip that was submitted by a web visitor and my thanks go to him for sharing this with us!
One of the challenges with making a waterfall, particularly a tall one is the challenge of controlling the water flow. If it is fall a foot like in the picture shown you can have a big mess. the water can splash all over the place! It can ruin other parts of your diorama and it can be loud! Note that the toothpick is there just to temporarily hold it in place.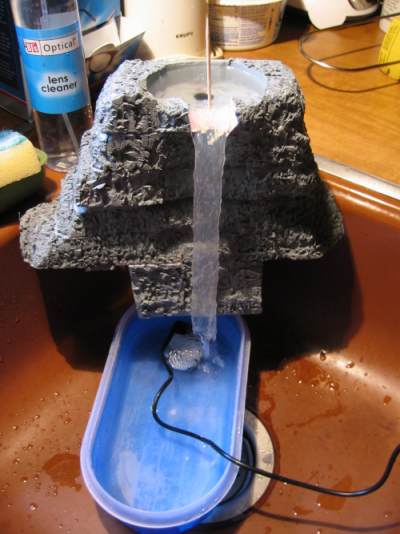 But.... you can control this. In a previous tutorial I showed you how you can use plastic or even crystal clear caulk to make a fake looking waterfall. Well, you can use that technique to make a base for your water to run down. Yup, that is what the picture above shows. there is a caulk waterfall underneath the water flow.
And the picture also shows you a couple of other important points. The toothpick holds the waterfall temporarily in place. You don't want to secure anything down until you know it works well! And let's test the thing out in the sink first! This way we can tinker with it and get it just right before installing it on our diorama. So... another valuable tip to think about is to make the waterfall as a stand-alone unit that you can install later, if possible.
The picture below shows me starting a false waterfall. Eventually this becomes a waterfall that isn't real but looks great. The plastic strip I use is perfect for our real waterfall. You can see this tutorial here. Make a waterfall in a diorama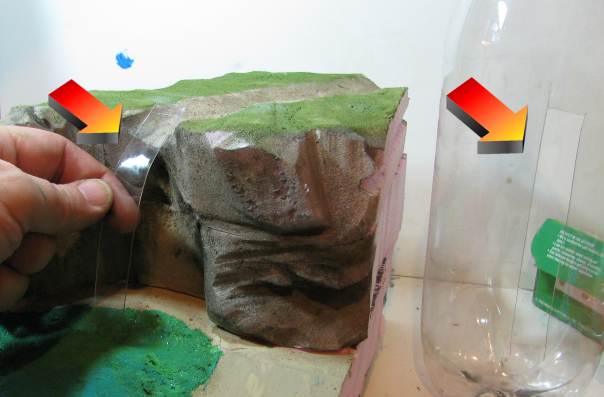 And here is a look at the waterfall in place on the Railroad layout.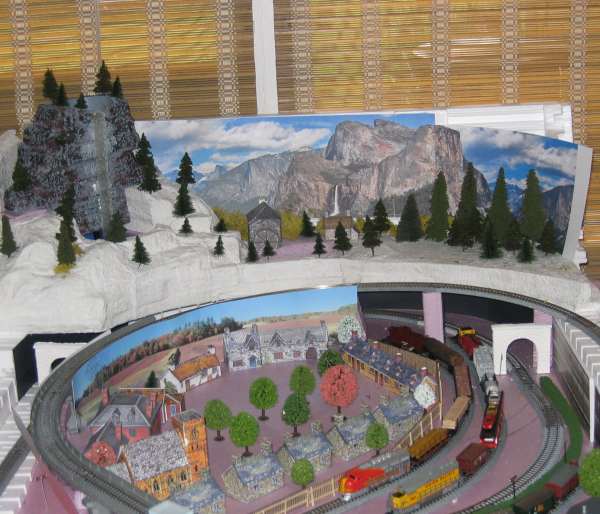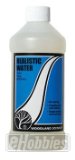 One more quick tip. You will want to seal parts of the diorama or waterfall to make sure it is waterproof. There are a lot of ways to do this but one quick and easy way is to use realistic water. You brush it on and let it dry. I do at least two coats. Realistic Water, 16oz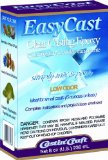 You can also use a clear casting resin like EasyCast. You mix two parts together and it will dry into a clear hard shell. This is the kind of stuff that is used to make clear paper weights. Environmental Technology 8-Ounce Kit Casting' Craft Casting Epoxy, Clear
---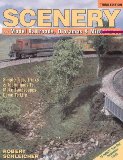 Scenery for Model Railroads, Dioramas & Miniatures
Transform your models from mundane to magnificent with expert proven techniques using the latest materials and methods. Ample photographs and step-by-step recipe cards make it simple to make your modelling scenes look just like real life. Learn how to create realistic mountains, trees, streams, grass, rocks, bushes and more, using inexpensive and easy-to-find materials.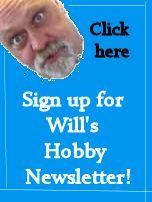 Do you like making projects and exploring a variety of hobbies?
Sign up for my free newsletter. I give you regular updates on hobbies and projects you can make. it is totally free and I don't share your email with anybody.