Search This Site!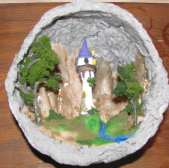 Make a Secret Geode Diorama Gift
Nice little creative and fun project where I show you how to make a geode which looks like a rock but it can be broken open to see a surprising scene inside. You can put anything you want inside. Make a Secret Geode Diorama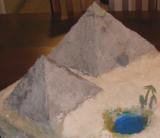 Make an Egyptian Diorama : A tutorial with lots of options on how to make an egyptian diorama.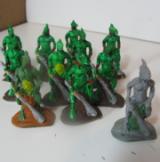 How to make a Miniature Army (I make lizard warriors) I show you the complete process from start with an idea and a drawing to making a whole bunch of them (as many as you want), This is an overview that explains all the steps including, wire armature, sculpting the master, making the rubber mold, and making all the miniatures. How to make a miniature army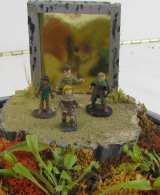 New: Alien World Biodiorama
This diorama/terrarium depicts a group of adventurers who have traveled through a gate into an alien world populated by venus fly traps. The Alien World Bio Diorama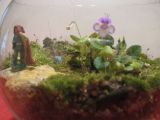 Make a Moss Terrarium Nice, easy project tutorial on how to make a moss terrarium. You can even find the moss outside. Make a Moss Terrarium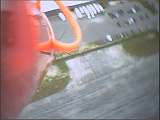 The Video Rocket
This is a rocket with a video camera in the nose cone. Pretty fun stuff. It takes a video as it climbs through the air. You can see in this picture the parking lot, building and cars. I have done a couple of launches with this and have the videos. The Video Rocket
DragonSlayer 7 Skyrim Animation
The latest installment of the dragonslayer series.
You can watch the animation and learn about
special effects like smoke and a destroying wall.
Dragonslayer 7 Skyrim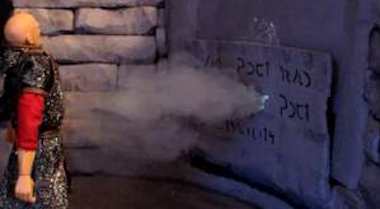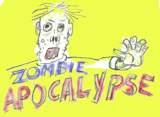 Zombie Apocalypse Paper Game
This is a free paper game that you can download and play. And just like any good zombie movie the goal is just to get past all the zombies! Zombie Apocalypse Paper Game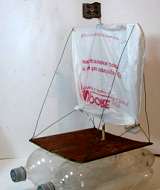 Make a recycled bottle boat
Fun little project that's quick and easy to make. Really sails. And I have added a little extra to my boat by making it radio controlled so it can steer! The Recycled Bottle Boat project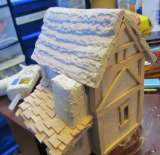 Medieval Village Roof Making
I am making some terrific progress on the medieval diorama and in this installment of the tutorial I show you how to make some great looking roofs for the buildings. Roofs for the medieval village

Uruk Hai Scimitar
This is the sword that the Uruk Hai wielded in the Lord of the Rings Movies. Easy to make and all you need is a sheet of foam board or cardboard. Download the package and print it up. Make an Uruk Hai Scimitar
Wall Diorama 18 Dragon's Lair and
Crystal Cave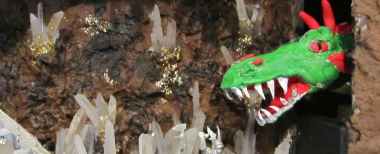 An automated dragon that comes out to attack any adventurers in the diorama. Wall Diorama Part 18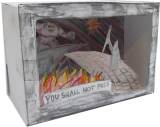 You Shall Not Pass - Paper Diorama
This is a paper diorama of the LOTR scene with Gandalf and the Balrog on the Bridge. Download it, print it, and put it together - LOTR Paper Diorama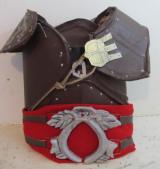 Make the Assassin's Creed Belt
Nice project. I show you how to make the belt including how to carve the big buckle out of foam. Make the Assassin's Creed Belt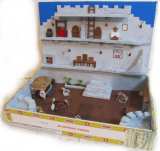 Make a Cigar Box Castle
This is a fun and very creative project. Just a cigar box and a little imagination, bits of foam, balsa wood, toothpicks and clay. All kinds of stuff can be used to make a cigar box castle
SEARCH THIS SITE




Free Hands-on Tutorials and Projects. "Creativity for your hands"
More Projects :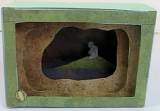 Gollum Tatebanko Paper Diorama
Complete download kit, print and make this paper diorama of gollum sitting in his cave. Gollum Tatebanko Paper Diorama
Make a Barometer -Science Project

Easy tutorial on how to make a barometer so you can track and predict the weather. Nice little science project. How to Make a Barometer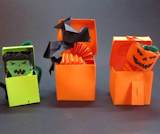 Make a Paper
Jack-in-the-box
Fun Halloween project all made out of paper. Even the spring. I give you everything in a template.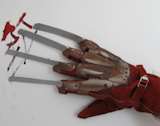 Make a Freddie Krueger Glove
Easy to make and looks great. All you need is a cereal box and a glove! Make A Freddie Krueger Glove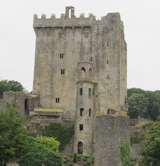 Well, this is not really a project. I took a trip to Ireland to see castles. I have lots of pics and interesting information about some great castles over there. You can see here: The Castles of Ireland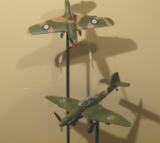 Make an Aerial battle military diorama This is an easy and good looking military diorama. It is very easy to build and it depicts two airplanes in a dogfight midflight. Make an Aerial battle diorama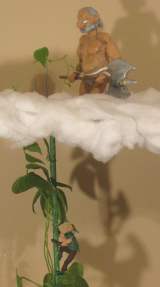 Jack and the Beanstalk bio diorama It has a real beanstalk and I show you how to make one. I also sculpted the miniature Jack and miniature giant: Jack and the Beanstalk Diorama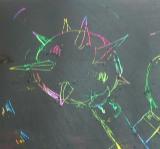 Make a rainbow scratch drawing Fun project that will keep you busy for a couple of hours. All you need is paper, crayons, dark paint and a pin and you can make a fun scratch drawing.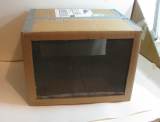 Make a Butterfly Box Easy project for raising butterflies from caterpillars. All you need is a little bit of screen and a cardboard box. Make a butterfly box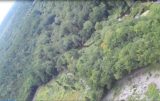 Took the plane out for a fly and crashed it. I had the camera mounted on the bottom so I got some great footage in the air and of the crash. Check it out on my youtube channel.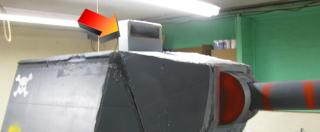 How to Make a Periscope I made a periscope for my DragonSlayer tank. I show you how to easily make a persicope for looking over walls and around corners. How to Make a Periscope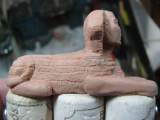 Sculpt a Miniature Sphinx : How to sculpt a miniature sphinx. This is part of an Egyptian Diorama I am making.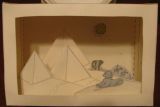 Make an Egyptian Tatebanko : This is a nice tatebanko project in Egypt. It shows the sphinx and the pyramids and it has a little caravan of camels walking across the desert. Egyptian Tatebanko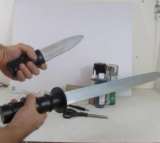 Make the Blade Sword with Hidden Dagger This is the sword from the movie BLADE with Wesley Snipes. It is a double edged katana with a dagger hidden in the handle Fun and easy project that uses foam board and a paper towel tube. Make the Blade Sword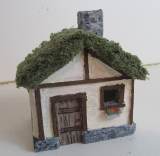 Make a Medieval Peasant's House
The First Tutorial in a new diorama series on making a medieval village diorama- It has that nice stucco and beam look that was popular in the Middle ages and there are a few nice extras like a unique thatched roof, a flower pot under the window and a short stone base. How to Make a Medieval Peasant's House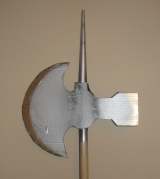 Make a cardboard battle axe or polearm Fun project for halloween or to add to your weapon repertoire How to make a cardboard battle axe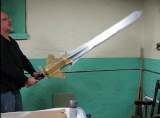 Dragonslayer 4 (The Rocket sword)This is a sneak peek view of my latest dragonslayer project. Just a quick look and a video explaining why the new dragonslayer is a sword. Dragonslayer 4 (the launch video is done!)