Tiger Tank in Bastogne Diorama
Here are some terrific pictures of a Tiger Tank in Bastogne Diorama. This Diorama was made by Rodney H. My thanks to him for these pics. You can see more of his work on his youtube channel. He does a lot of WW2 Diorama and model making and he has been doing it for around 25 years. I also have some of his videos posted to my website here. One great tip that he shows us is how to deal with the problem of working on tank tracks. If you ever built a model tank you know that the tank tracks can be a real challenge. But Rodney has a great process for assembling the Tank Tracks. Here is how he does it:
with the tape it holds the links together so i can drill out the holes to each one so they wont move.When all drilled out i then insert the wire into each link and them apply glue, after waiting for glue to dry i simply go to each link using a pair of pliars snip off excess wire and remove tape...presto.!!...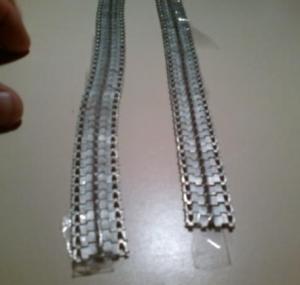 Roll out a piece of tape with the sticky side up and attach the tank tracks to it. This is a great tip. It allows you to easily handle, work on , and paint the tracks. These tracks are for a Soviet T-55 Tank in the 1-35 Scale.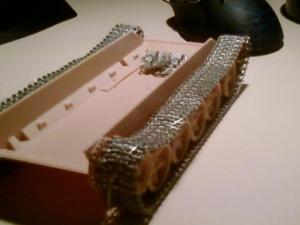 In this picture you can see that the tank tracks have been installed on this Soviet Tank with the tape still on. This tape trick makes it so much easier to work with the tracks.
Rodney's Tiger Tank Diorama
You can see in the first two pictures that the scene is a snow scene. So how did Rodney make this terrific looking snow? He has his own ingenious little formula that he uses and he has shared it with us:
"What i have used for snow for years is a little cocktail of mine...hehe...its normal baby powder and mix with shavings of a big piece of plaster of paris..I mold over styrofoam with plaster some high points of the diarama..let it set....then with some white glue mixed with water I cover the high points and then sprinkle the baby powder over it...wait for it to dry..
Whenever I plaster something I always make a solid rectangle plaster block..so when it dries I get a hobby knife and cover the shavings over the diarama...[the block MUST be completly dry for this effect] if its not it will be clumps of semi-wet plaster and you don' t want that..as the plaster is heavier than the baby powder it gives a compacting effect and looks quite real....pastels...chalk...ect is a must with any diarama...it is the key element for weathering any model...gives a realistic effect after you have painted your model etc....it gives the illusion of weathered paint opposed to a brand new paint job... After I scrape shavings of plaster over diorama, to secure it I use ...hairspray..as its lacquer,but thats optional as the plaster is heavy most of the time I leave it like it is."