Generating Traffic - Create Hubpages
As a webmaster, one of the most important things you can do is get links to your site from other sites. And I don't mean crappy links that are embedded in pages with hundreds of other links. If you have been webmastering for a while now you have seen these "link farms". I get offers to join them a lot and I always turn them down. Link farms, or pages that just churn out long lists of links are relatively useless and may even be penalizing to you so don't do them.
Anyway, how do you find quality links back to your site from web pages that have real content and value? Hubpages!
What are hubpages?
What do you do?
You sign up for a totally free account then you create a page based on a subject that you have some knowledge of. What subject should this be? Something that is related to your website, and this is important because you will put links to your website right on your hubpage.
Here is an example of one of my hubpages. It is all about the classical guitar.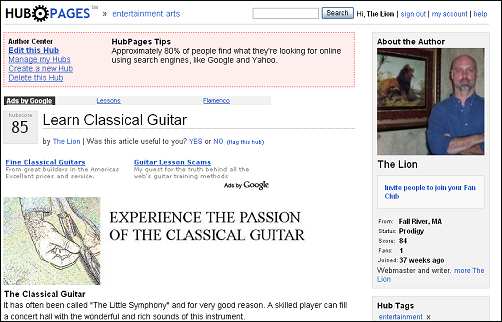 This hubpage consists of lots of interesting information about playing the classical guitar and of course there are links to my website further down the page. Because my website is all about the classical guitar.
The importance, and the benefit of this
You get links to your site, and not just any links but high quality and relative links. But there is an additional benefit in that you get to share in any revenue that your hubpages generate. If you have a google adsense account, an ebay account or an amazon affiliate account you easily add your affiliate id numbers to your hubpages and you are done. You share in the revenue.
How to do hubpages
It is quite easy and everything is broken down into modules where you just input your information like text, links, pictures or more. Hubpages creates the design and layout and you don't have to worry about it.
Summary Hubpages is a great way to get some quality pages and linkbacks on someone elses site. And it is easy to do. I recommend you start making some hubpages today. It is going to send traffic to your site.