Google and Youtube team up with video ads -Tutorial on how to put video ads on your website
Google has teamed up with Youtube and brought to you what could possibly be a revolutionary new product that will help you give content to your web visitors and of course help you earn more money. It is the google video ads and it is brand new.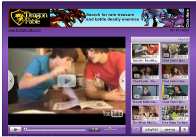 (<--Shown here is an example of a video ad)
But here is the beauty of it. It is content for your website! Yes, content is the thing that every webmaster strives for and every webmaster has an unending hunger for. Now you can get video content for your site and earn money while doing it! Doesn't get much better than that.
But, do not just create webpages with the google/youtube video on it! You still need to create your own content. These video ads are just a way to accentuate your content and add more. It is a way to enhance your web visitors stay on your site.
The video ads work in the same way that your regular ads work. Google scans the page to see what it is about then populates it with relevant ads. If there is no content on the page you won't get good ads. Same thing applies to the video ads. They scan the page and then populate with relevant material. So write good content and then add the video ads.
Here is exactly how to set up the video ads on your website.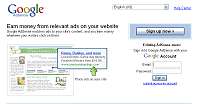 Step 1: Log into your google adsense account. If you don't have an adsense account here is my tutorial on how to get one for free of course. Getting a google adsense account
Or just use this button:

Now click on the AdSense Setup tab.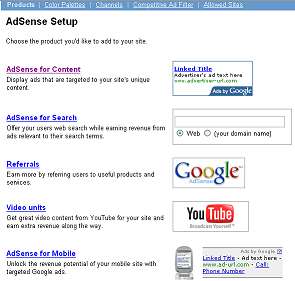 You will see the usual options for your adsense account such as adsense for content and adsense for search. But now there is a new option: "Video Units". Click on that selection.
The next screen tells you a little bit about adsense video units and asks you if you agree with the terms of service. Make sure you read the terms of service and if you agree with them then you can continue.
My very strong advice to you - Follow these terms of service. You can do quite well with google adsense but you have to follow the rules to the letter. Don't fudge anything at all. It will be worth it in the long run!
After clicking on the agree button you will be taken to a screen that asks to re-verify your publisher status. You input various information like the last 5 digits of your phone number and your email account that is affiliated with google adsense.
Now we get into the beef of the new Video Ads
You can create an unlimited number of video ads so make sure you enter information on the next screen that very sharply defines what the content of the page and the video ad are about. This is very important so you can track what is working and what is not working.
Choices to make:
Player Information: Be specific so you can know exactly what the ad unit is.
Theme: This is important and the rules of adsense apply. Make sure the look of the video player matches the look of the webpage it will appear on. This is standard with all adsense ads and it will make a big difference in your revenue and your advertisers success.
Layout: This choice will be drive by the amount of space you want the player to take and the amount of interactive content you want. There are currently three sizes available to you: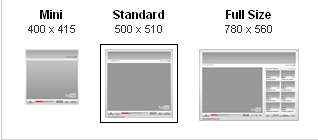 Now you need to choose the content for the player. You can decide to let google and youtube figure this out for you (Which is pretty great because it works for adsense normal ads) or you can get more specific with your choices by defining keywords as a guide or by choosing very specific categories. You make this decision based on your needs but if you don't know what to do then you can just leave the default and let google/youtube decide for you. Remember that they based decisions on what will bring the best revenue so it's a good choice!
Now all you have to do is copy the snippet of code and paste it into your website. It's as simple as that!