Opening an Amazon AStore
Amazon.com just launched (August 19, 2006) a new service for its associates called the AStore and this is a free service that I really like.
What is the Astore? It is a store you can build that is hosted on their website. It allows you to specify a group of books, movies, or anything else into a nice page. It of course allows you to create multiple pages. Lets say you have recommendations for your favorite money making books you can create a page and list them. You can also have a page with your favorite search engine books, your favorite work at home books and your favorite affiliate program books. And these are all linked together in a nice little website with navigation bars.
Why is this so nice? There are a couple of benefits. First of all, you have a fast way to gather together a list of products for your web visitors in an easy to understand and easy to navigate website. Second of all the bandwidth is hosted at amazon.com. If band width (and pageload speed) are a concern for you this is a great thing. Third of all, and probably most important is that along with the books and items you can select for the website you also get the ability to pop in links to similar listmania items, similar items and your web visitors wish list! All of this with a shopping cart!
All of this is a fantastic free service for webmasters that operate on a shoestring budget.
It's fast and easy to use. If you have a good command of the subject that your website revolves around then you probably already have a list of items/books that you want listed in your site. For me, I have an extensive list of ISBN numbers for the most popular items that I sell through my websites. So it only took me ten minutes from the first time I logged into my store to create it, design the layout and input the books, with my recommendations.
This looks like a winning application from amazon! Thanks Amazon! You have given me another great tool and you have given my web visitors more choices and a better shopping experience.
Here is a look at my first page. It is all about books for writers of science fiction and fantasy.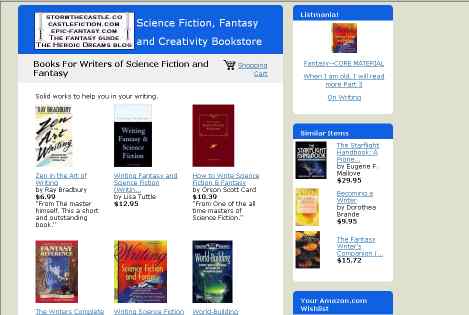 If you want to check out the page it is located here:
The StormTheCastle Amazon Astore for writers of science fiction fantasy
---