-How to put audio on your website
Audio is an extremely powerful and useful tool you can and should use on your website. When you can talk to your web visitors you can really express your point to them. And they will look at your website in a different way. There is a personal connection -almost like a face to face encounter or a phone call. It is a great way to connect. And you can do it for free using a program called Web Audio Plus.
.
.
.
---
| | | |
| --- | --- | --- |
| | A Message From Will: When Making this tutorial I used the program to make my own audio. You can play it right here on the right. | |
---
This tutorial takes you through all the steps
Step one: Get the program here: Myonesource.com
If that version doesn't work for you try this one here: Web audio Plus
Step two: Extract and install it to your computer

Step three: Lets run this - Find the Web Audio plus icon on your desktop and click it to run the program. If you don't see an icon look through your start menu items for it.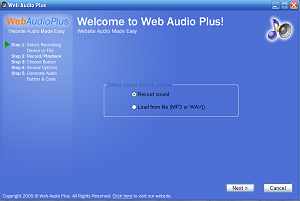 The first screen that pops up gives you a choice to make a new audio or load an already made mp3 or wav file. Easy enough to do. Let's click the Record Sound button and make our own new audio.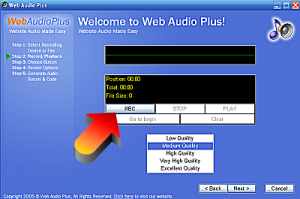 Now all you have to do is press the Record button and you can begin talking. Pretty Darn Simple!
But, you should first make a selection in the box at the bottom that will determin the sound quality. You can try low quality and record a test then play it back to yourself. If it sounds ok then stick with it. The different quality levels will create progressively larger files (which will download slower) So, if possible, use the low quality setting if you can.
Quick Note: Your pc microphone should already be set up but if you are having problems say with the volume you can adjust the microphone by going to Start >> Control Panel >> Sound, Speech, Audio in Windows.
Okay, Record your message and click Next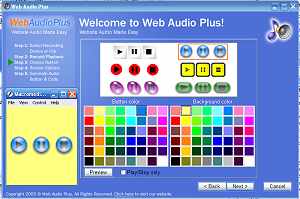 This next screen is pretty easy to understand. You select the look and color of your play buttons. Select something that fits in well with the look of your website. Then Press the Next Button.
Now, this is where it might get a bit tricky so I have created a really big picture for you to look at: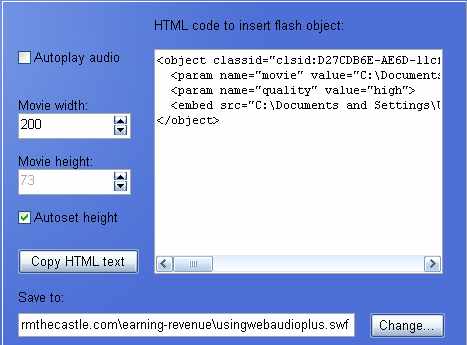 The Big white box that is labeled "Html code to insert flash object:" is where you get the code to put into your website. You copy and paste this into your webpage where you want it to go. But don't do that yet.
CHANGE THE NAME OF YOUR AUDIO FILE
In the lower box called "Save to:" there is some important information. You see the last part of the line? In this case it is called \usingwebaudioplus.swf
I made that name up. So my file will be called: usingwebaudioplus.swf
The program puts a default name in there. Change that default name to something you want. It should identify your audio program. Something like myfirstaudio.swf is great
NOW CHANGE THE LOCATION IT IS SAVED TO
Flash can be a bit tempermental and you have to save this file into the exact same folder where the webpage resides. So press the Change button and browse to the folder where your webpage is saved. This page you are seeing now is in my earning-revenue folder so I saved it there.
Dont forget that when you upload the page to your website you also upload this swf file too.
NOW just copy the code in the big white box and paste it into your website and you are done! Of course you need to upload the webpage and the swf file to your site.
You are done! Now you can make recordings to connect with your web visitors.
ONE QUICK TROUBLESHOOTING NOTE
I use dreamweaver to compose my web pages and when I paste the code into my webpage dreamweaver resolves it to a relative to page location which makes it wrong. So once you paste it into your webpage make sure you take a look and verify it points to the location of the swf file in your website.

Hi! My name is Will and I want to thank you for visiting my website. I hope this tutorial has been helpful. If you are a small webmaster just trying to make a go of your website and would like to make or increase the money it brings in I have lots of stuff here on this site for you. It's all totally free and I lay out all the things I have done and learned over the years. I hope it helps and have some fun. The Tutorial starts here